What Sun Damage Looks Like & How to Fix It With Eminence Organics
Our skin will age as a result of years of exposure to the sun. We can see the hours and days we've spent outside in the form of dark patches, wrinkles, sagging skin, and discolouration. Unfortunately for sun worshippers, UV damage can prematurely age our skin and raise our risk of skin cancer.
Learn the most common signs of sun damage & pigmentation and how to treat and prevent it.
Signs of Sun Damage On The Skin
Products To Prevent & Treat Your Skin From Sun Damage
Signs of Sun Damage On The Skin
Sun damage alters the skin's structure permanently, unlike typical chronological aging determined by age and genetics.
These symptoms include:
Rough, Dry Skin Texture
Prolonged exposure to UV radiation can cause textural changes in the skin, such as scaly patches and thicker, raised areas. This type of sun damage has been linked to the development of skin cancer. Monitoring your skin for any changes and seeking medical advice can detect potential skin cancers early.
Wrinkles & Fine Lines
Sun damage may show up as a permanent change in the skin's collagen, which provides the skin its suppleness. Fine lines, wrinkles, and a thicker skin texture are a few examples of these alterations. Unfortunately, prolonged exposure to UV radiation causes your skin to prematurely age and lose its suppleness and collagen. In fact, exposure to the sun's UV radiation is responsible for an astounding 90% of apparent ageing.
Sagging, Loose Skin
Two proteins in the skin, elastin and collagen, break down over time as a result of both external causes and the ageing process itself. These risks include overexposure to the sun and unhealthy dietary habits, excessive alcohol intake, and smoking. Skin becomes drooping and loose as a result of the breakdown of collagen and elastin synthesis.
Spider Veins
Deteriorating collagen causes a brittle collagen structure, which lowers the pressure surrounding blood vessels and reduces skin suppleness. Due to this alteration, spider veins are now more likely to manifest as a web-like network of red, purple, and blue lines at the skin's surface.
Ruddy Complexion
It's possible to inherit a reddish complexion. It can also be brought on by getting too much sun, too. Ruddy skin has a reddish colour and may appear patchy, blotchy, or to have broken capillaries.
Hyperpigmentation
A general phrase used to describe an uneven skin tone or the appearance of dark patches is uneven skin pigmentation (or hyperpigmentation). You'll see areas of the skin that have darkened or discoloured due to sun exposure or heredity if your skin tone is uneven. Either a raised lesion (papule or plaque) or a flat lesion (patch or macule) best describes a skin pigmentation.
Moles exhibit yet another sort of hyperpigmentation. Any unusual change in your skin should prompt a doctor's visit to check for skin cancer symptoms. In later years, a spot that was light when you first spotted it in your 30s may take on a different look. Watch for changes in these black patches' colour, texture, size, or form, and see your doctor if you do.
Lentigines, commonly referred to as dark patches, liver spots, or sun spots, are another kind of hyperpigmentation. They resemble oversized freckles or brown patches that are flat. Your arms, legs, face, hands, neck, and décolletage are the common locations for these, which develop from repeated exposure to UV radiation. This is distinct from problems with skin pigmentation, which develop when cells suffer injury and produce less melanin.
If you've seen any of these skin conditions, speak with your doctor and keep reading to learn how to prevent additional sun damage and enhance the health of your skin.
Products To Prevent & Treat Your Skin From Sun Damage
Here are 6 things you can do to protect your skin if you want to maintain it glowing and healthy throughout time.
1. Apply a SPF Moisturizer Daily
SPF is a preventative tool but only if you wear it prior to sun exposure.
The Eminence Organics Bright Skin Moisturizer SPF 40 is a best-selling daily all mineral moisturizer that brightens skin with Natural Hydroquinone Alternative and targets the appearance of dark spots and helps prevent sunburn. This product delivers rich and nourishing moisture to your skin and helps to even skin tone, while protecting against UV rays.
The Eminence Organics Tropical Vanilla Day Cream SPF 40 formulated with vanilla, shea butter and SPF 40 all mineral protection to revitalize skin and help prevent sunburn. Suitable for all skin types.
The Eminence Organics Lilikoi Daily Defense Moisturizer SPF 40 is an all-in-one lightweight daily moisturizer formulated with cocoa seed extract, satsuma mandarin peel and SPF 40 all mineral protection to improve the appearance of skin exposed to blue light stress and pollution. Suitable for all skin types.
The Eminence Organics Lilikoi Mineral Defense Sport Sunscreen SPF 30 is formulated for sports activities with a non-greasy, 40-minute water-resistant SPF 30. With an easy application on the face and body, it will protect from UVA/UVB rays while participating in swimming or high-intensity physical activities.
2. Apply a SPF Powder During the Day 
Consider using a transparent or bronzer powder with SPF which can be applied through the day.
These hypoallergenic, non-comedogenic Eminence Organics Sun Defense Minerals deliver up to SPF 30 sun defense to both women and men. Ideal for post-treatment care, these minerals are particularly helpful on red or blotchy skin. Darker shades may also be used as a bronzing agent.
3. Boost Your SPF Protection by 2 x With a Vitamin C Serum
It has been proven that utilizing vitamin C serum in addition to sunscreen is more dramatically more efficient than using sunscreen alone at reducing free radical damage caused by exposure to the sun.
When SPF and Vitamin C are applied together, their benefits multiply and will be far more efficient at reducing dark spots and signs of aging from the sun.
The Eminence Organics Citrus & Kale Potent C+E Serum is a lightweight, advanced serum for all skin types. The potent Vitamin C in this serum is stabilized by botanically-derived ferulic acid delivering antioxidants to help brighten skin, improve the look of fine lines and wrinkles, and reduce the appearance of free radical damage.
4. Use Brightening Skin Care Products Daily
Products from the Bright Skin Collection will help to brighten and reduce the appearance of sun damage, dark spots and pigmentation.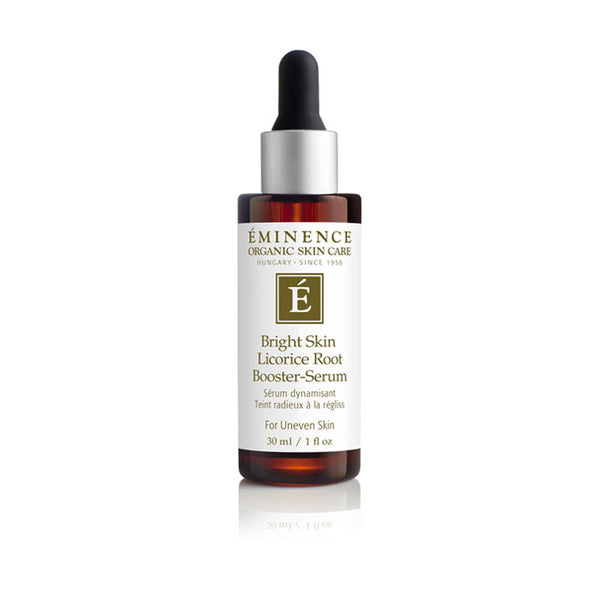 The Eminence Organics Bright Skin Licorice Root Booster-Serum is an extra strength brightening serum and product enhancer will reveal the look of your skin's luminous complexion. The appearance of sun damage, dark spots and pigmentation will appear dramatically brighter.
Treat the look of hyperpigmentation and brighten your skin while you sleep with the Eminence Organics Bright Skin Overnight Correcting Cream. This rich night cream delivers potent actives that visibly reduce the look of sun damage, age and dark spots for a luminous complexion.
5. Boost Your Skincare Routine With Vitamin C Powder
One of the best innovations in the cosmetics industry for delaying the appearance of fine lines, wrinkles, and dark spots on the skin is a topical daily vitamin C serum.
Supercharge your skin care with our vitamin-rich Eminence Organics Superfood Booster-Powder! Packed with superfoods, this ultra-fine powder targets uneven skin tone and reduces the appearance of dark spots. Add a spoonful to your favorite cream moisturizer and give skin a healthy, natural glow. Suitable for all skin types.
6. Apply a Potent Vitamin C Masque
Regularly exfoliating and applying a masque will help to heal, nourish and improve the appearance of your skin.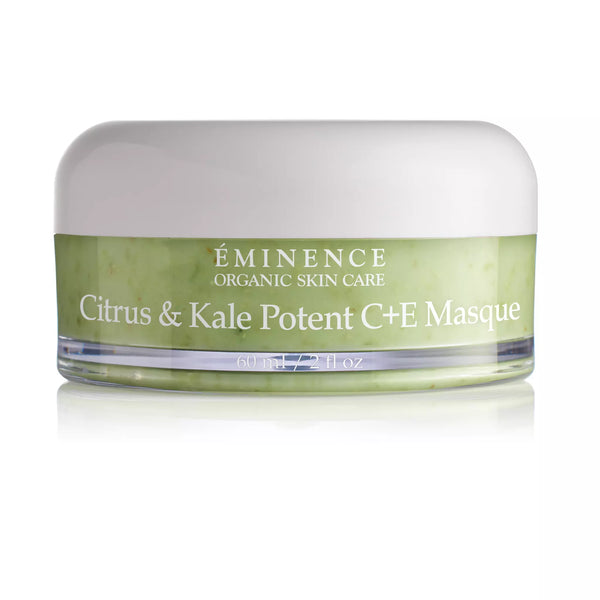 The Eminence Organics Citrus & Kale Potent C+E Masque powerful, creamy-gel mask ideal for all skin types. Featuring the restorative combination of Vitamins C+E, and enriched with a blend of natural vitamins, this mask helps to improve skin's appearance, reducing the impact of sun damage and diminishing the visibility of wrinkles.
Brighten skin with the Dark Spot Eraser Bundle to prevent, treat and erase dark spots and hyperpigmentation. These products deliver potent ingredients that visibly reduce the look of age and dark spots for a luminous complexion.
Next Steps
Are you dealing with signs of sun damage?
Take a look at our product picks
Check out the Summer Must-Have Essentials from Eminence Organics.
Take our Eminence skincare quiz
Find the best Eminence Organics products for your skin type that will have dramatic results and get $15 towards your order by taking our exclusive skincare quiz.
Book a free skin consultation
Contact us and one of our Eminence experts will review your skin condition and recommend a personalized routine for you.