Why Your Fall Face Needs Seasonal Exfoliation
Seasonal changes will often require changes to our skin care routines - after a long, warm summer our skin has a need for good exfoliation. This is because tanned dry and dead skin cells can give us an especially dull appearance.
Accumulation on our skin is a slow process. Even if our cleansers have exfoliating properties, it only does a very superficial job of exfoliation.
The amazing benefits of seasonal exfoliation include reducing sun spots and pigmentation, brightening the skin and improving the effectiveness of your other skin care products by enhancing absorption.
Exfoliation Promotes a Healthy Skin Barrier
The skin's outermost layers are made up of dead skin cells, which are separated from one another by a lipid membrane that retains water.

The skin barrier keeps moisture in and environmental irritants out, but it can deteriorate over time due to ageing, dryness, and environmental damage. These result in decreased production of moisturizing lipids by the skin, and an overall increase in sensitivity to dullness, dryness, and injury.

Restoring the skin barrier by exfoliation aids in reversing this process. Some of the skin barrier's outer, decomposing layers of dead cells can be removed by using an exfoliating agent. In reaction, the skin starts to internally produce more healthy new cells.
Why Exfoliation Is Essential In Fall
Exfoliation is most important secret to healthy, youthful and radiant skin.
New skin cells are continually being produced by your skin, and old skin cells are constantly being lost. This is typically referred to as cell turnover. Cell turnover slows down for a variety of reasons, including exposure to the environment (sun, wind, dust), stress, and hormonal changes. As a result, dead skin cells accumulate on the surface and become dull, dry, and discoloured.
Exfoliation is the procedure used to remove surface-level dead skin cells from the skin. Exfoliation not only removes dead skin cells, unclogs and minimizes pores, smoothes the skin's surface, gets rid of discolouration, and evens out skin tone, but also gets the skin ready for the best absorption of moisturizing and anti-aging products.
All skin types needs exfoliation for healthy skin. Exfoliation is beneficial for many types of skin, including dry, oily, sensitive, acne-prone, and normal skin. The approach and frequency will all depend on the health and sensitivity of your skin.
Benefits of Seasonal Exfoliation
Enhanced Absorption of Products
Skin is particularly vulnerable to dullness, dryness, and injury as temperatures drop and humidity levels fluctuate. Exfoliation removes dry and dead skin on the surface allowing serums and moisturizers to penetrate the skin more effectively.
Reduced Appearance of Dark Spots & Sun Damage
Summertime sun exposure can cause hyperpigmentation. Exfoliation increases cell turnover and gently encourages the loss of damaged skin cells, which over time lessens the visibility of dark spots and uneven skin tone.
Reduces Breakouts
Seasonal changes may cause imbalances in the skin's natural oil production, which could result in outbreaks. By removing dirt and impurities, regular exfoliation lowers the risk of closed pores and breakouts.
Rejuvenates Skin
The skin literally becomes younger as a result of increased cell turnover, giving the appearance of younger skin. The skin brightens, has increased elasticity and firmness, better maintains moisture, and is more resistant to environmental aggressors.
How often should I exfoliate?
It is recommended to exfoliate your skin 1-2 times per a week as part of your weekly skin care routine. Applying a masque to nourish your skin after exfoliation is also very beneficial.
The Best Eminence Exfoliators For Your Skin Type
The best Eminence Organics exfoliator for you will often be determined by your skin type, sensitivity, and goals.
Normal / Combination / Dry Skin Types
★★★★★
"Leaves my skin silky smooth. I love it! Smells nice and you don't need to use much. Easily washes off. Definitely would recommend this product to everyone."
- Nadia R
★★★★★
"This is the best exfoliant i've ever used. My skin instantly feels amazing, so smooth!"
- Amanda S
Mature / Sun Damaged Skin
★★★★★
"

I am in LOVE! I saw an immediate difference - my skin is brighter and smoother.

"
- Leslie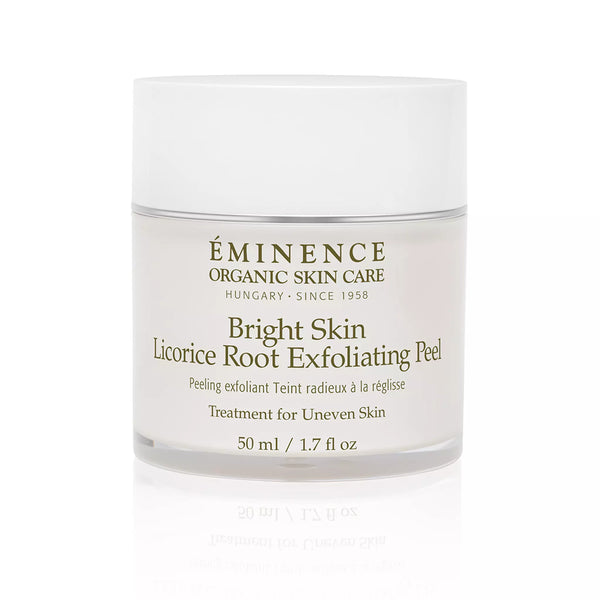 ★★★★★
"Game Changer! It helped significantly fade sun and age spots."
- Lauri B
Oily Skin Types
★★★★★
"I enjoy this product it isn't too harsh. It's gentle enough that just anyone can buy it so don't be scared off by the "peel" word. I use the whole line as I suffer from hormonal acne."
- Ashleigh
Sensitive Skin Types
★★★★★
"Solid product. This product goes a long way, I use it once every month. Regular use does help my skin's appearance."
- Amber S.
★★★★★
"I have super sensitive skin and realized very quickly that abrasive exfoliants are an awful thing for me. I've been using this for almost a year now and I absolutely love it! It makes my skin so so soft and got rid of any black heads I had on my nose."
- Summer
Next Steps
Are you ready to dramatically improve your radiance and complexion with seasonal exfoliation?
Take a look at our product picks
Shop all the Eminence Organics exfoliants & peels.
Take our Eminence skincare quiz
Find the best Eminence Organics products for your skin type that will have dramatic results and get $15 towards your order by taking our exclusive skincare quiz.
Book a free skin consultation
Contact us and one of our Eminence experts will review your skin condition and recommend a personalized routine for you.