Why Exfoliating with Eminence Organics is Essential for your Skin
Exfoliation is the process of using a chemical, granular substance, or exfoliation instrument to remove dead skin cells from the surface of your skin. Even though every 30 days, your skin naturally sheds old skin cells to create place for new ones, dead cells don't always shed fully. As a result, you can experience clogged pores and dry, flaky patches, dehydration, premature aging and more.
Regular exfoliation helps to keep your skin silky soft and smooth, increase your skin's radiance, reduce sun and dark spots, and increase hydration by buffing away and removing dead skin cells which allow your skin care products to absorb.
Why you need to exfoliate
What are the benefits of exfoliating?
How often should I exfoliate?
What is the best Eminence Organics exfoliator for my skin?
Why you need to exfoliate
Regular exfoliation is essential as it allows the removal of the top layers of the skin to readily allow the fresh skin to breathe and function without any unwanted barriers.
If you are not exfoliating regularity you may experience the following:
Dullness
Rough appearance or texture
Acne or other breakouts
Discoloration or uneven tone
Sun and age spots
Having dry, flaky, irritated skin
What are the benefits of exfoliating?
Exfoliating on a regular basis can improve the appearance of your skin in many ways.
Boosts Skin's Radiance
The natural process of skin renewal slows down as we get older, and when dead skin cells begin to accumulate, your skin will look dry, dull, and harsh. By releasing the connections that hold dead skin cells together, exfoliating aids in the removal of these cells while also promoting the rapid growth of new skin cells.
Improves Skin Hydration and Prevents Aging
If you are not regularity exfoliating, it's very likely your skin may be dehydrated. As layers of dead skin cells build up, it can be harder for your skin to absorb your skin care products. Exfoliating you will be able to remove away those dead skin cells that are preventing your skin from getting the moisture and full benefits of your hydrating Eminence Organics serums, oils, and moisturizers.
Reduces Appearance of Dark Spots
Often with age, dark pigmentation and spots appear on the skin. Exfoliating is very beneficial for brightening, reducing, and erasing these pigmented cells. By removing the build-up of dry skin, this helps to retain a healthy glow and smooth complexion.
Minimizes Breakouts
A regular exfoliating routine can help unclog pores to minimize the formation of whiteheads and blackheads. This will also help to breakdown bacteria and speed up the production of new skin cells. Cleaning out pores will minimize their appearance, and makes you less prone to breakouts.
Improves Collagen Production
Exfoliation improves blood circulation which minimizes the appearance of cellulite, improves skin elasticity and will enhance your all over body glow and radiance. Long-term regular exfoliating will also increase collagen production. Collagen is key to glowing, vibrant skin. The protein also promotes skin elasticity, minimizing the appearance of fine lines and related sagging.
How often should I exfoliate?
It is recommended to exfoliate your skin 1-2 times per a week as part of your weekly skin care routine. Applying a masque to nourish your skin after exfoliation is also very beneficial.
What is the best Eminence Organics exfoliator for my skin?
The best Eminence Organics exfoliator for you will often be determined by your skin type, sensitivity, and goals.
Normal / Combination / Dry Skin Types
The #1 best-selling Eminence Organics Strawberry Rhubarb Dermafoliant helps you achieve a bright and radiant looking complexion. Rice powder absorbs oil while lactic and salicylic acids remove removes impurities and excess oil from the skin. Strawberries and rhubarb infuse the skin with antioxidants to polish, soften and smooth skin.
The foaming Eminence Organics Stone Crop Oxygenating Fizzofoliant mixes microgreens, stone crop and rice flour with adzuki powder to infuse skin with a youthful looking glow. With its light fizzing action, this revitalizing formula gently invigorates the skin and removes impurities to reveal a beautiful, brighter looking complexion.
Mature / Sun Damaged Skin
The effective Eminence Organics Yam & Pumpkin Enzyme Peel 5% accelerates the exfoliation process with this enzyme peel that removes dead skin cells, reduces the appearance of pigmentation, fine lines and sun damage.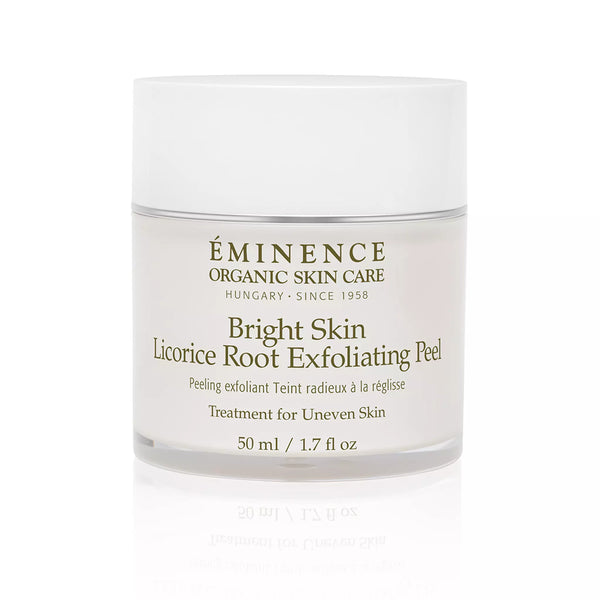 The Eminence Organics Bright Skin Licorice Root Exfoliating Peel is a results-oriented peel solution with cotton round pads that reduces the look of uneven pigmentation. Lactic and mandelic acids gently exfoliate dead skin cells while licorice root and our Natural Hydroquinone Alternative from African potato and tara tree brighten the appearance of dark spots and hyperpigmentation.
Oily Skin Types
The Eminence Organics Clear Skin Willow Bark Exfoliating Peel is a deep-cleansing, clarifying peel solution with cotton round pads for problem skin types. Clarify and refine the complexion without irritation while reducing the appearance of problem skin.
Sensitive Skin Types
The hypoallergenic Eminence Organics Radish Seed Refining Peel helps prevent the appearance of breakouts with its antiseptic and detoxifying herbal extracts. Nettle, whole grain oat and willow bark stimulate skin renewal and smooth the appearance of lines.
The gentle Eminence Organics Calm Skin Chamomile Exfoliating Peel is a solution with cotton round pads for sensitive skin types. Renew sensitive skin without irritation with lactic and mandelic acids. Chamomile refreshes, calendula moisturizes and soothes the look of redness, and the arnica flower reduces the appearance of inflammation.
Next Steps
Are you ready to dramatically improve your radiance and complexion?
Take a look at our product picks
Shop all the Eminence Organics exfoliants & peels.
Take our Eminence skincare quiz
Find the best Eminence Organics products for your skin type that will have dramatic results and get $15 towards your order by taking our exclusive skincare quiz.
Book a free skin consultation
Contact us and one of our Eminence experts will review your skin condition and recommend a personalized routine for you.